ADOPT-A-COUNTY
This county is available for adoption. If you are interested in becoming the County Coordinator for
Owyhee County
or any other Idaho county. Contact the State Coordinator.
Or visit our "Volunteer" page for detailed information on how to become a County Coordinator.
Welcome to Owyhee County!
The county seat is Murphy.
other communities include Bruneau, Givens Hot Springs, Grand View, Grasmere, Homedale, Marsing, Murphy, Oreana, Reynolds, Riddle, Silver City, and the Duck Valley Indian Reservation.
Established December 31, 1863 with its county seat at Ruby City. This was the first county to be established by the first territorial legislature. In 1867 the county seat was moved to Silver City and in 1934 to Murphy. Named for the river, mountains and mining area explored by Hawaiian fur trappers in 1819-1820. Hawaii and Owyhee are different spellings of the same word. Gold was discovered on Jordan Creek in 1863, and millions of dollars of gold and silver were taken from Silver City region until the industry declined in the early 1900s.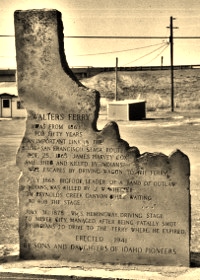 (click image for larger image)
Walters Ferry was from 1863 for fifty years an important link in the Boise-San Francisco Stage Route.
Oct. 25 1865 ~ James Harvey Cox ambushed and killed by Indians. Wife escapes by driving wagon to the ferry.
July 1868 ~ Bigfoot, leader of a band of outlaw Indians, was killed by J. W. Wheeler in Reynolds Creek Canyon while waiting to rob Stage.
July 31, 1878 ~ Wm. S. Hemingway, driving stage to Silver City, managed after being fatally shot by Indians to drive to the ferry where he expired.
Erected 1941 ~ By Sons and Daughters of Idaho Pioneers.
We would like to thank Jimmy Parker, Charlotte Slater and Kathy Dusek for all the work they did on this site.
Updated 25 May 2014 by Sharon McConnel, Assistant State Coordinator
Idaho GenWeb Home :: Rootsweb Owyhee Co. messageboard :: GenWeb Archives :: US GenWeb Home
Copyright © 2011 - Sharon McConnel. All Rights Reserved.